Posted on April 18, 2018 by zach andrews I designboom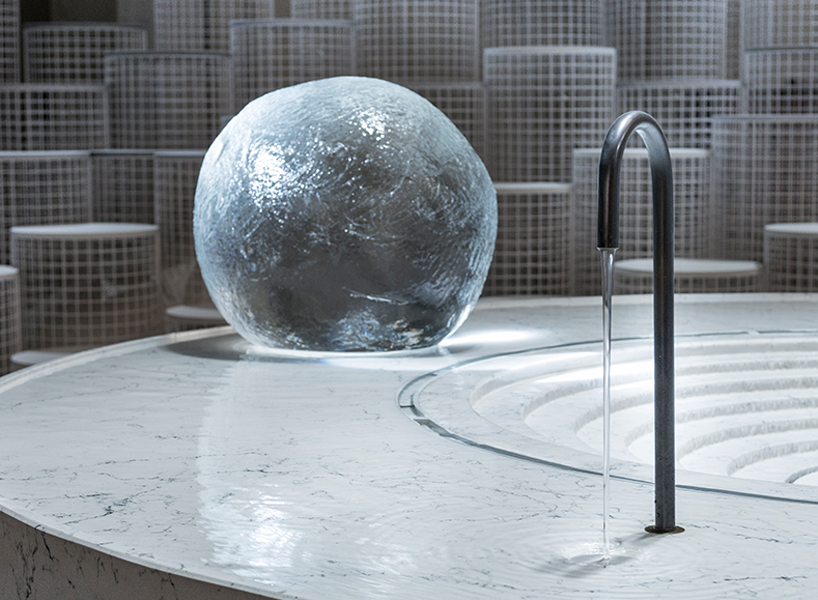 during milan design week 2018, in an amphitheater of altered states, caesarstone + snarkitecture pays homage to the center stage of the home: the kitchen island.
The post snarkitecture excavates installation of raw altered states for caesarstone appeared first on designboom | architecture & design magazine.
Posted on April 18, 2018 by Rachel Kaufman
One of the photos featured at the National Building Museum's new Evicted exhibit. (Photo by Michael Kienitz, courtesy of the National Building Museum)
For those who were intimidated by "Evicted," Matthew Desmond's 400-page tome on eviction and poverty in the United States — perhaps you really meant to get around to reading the 2016 Pulitzer Prize winner — the National Building Museum in Washington, D.C. is now presenting a bite-size exhibit on the topic.
The Evicted exhibit may be digestible, but it won't necessarily go down easy.
Eviction touched 2.3 million people in the year 2016. That number, said Desmond at a press preview for the new exhibit, is twice the number of Americans arrested for drugs, 36 times the number of drug overdoses yearly. Yet only recently have people been talking about eviction.
"Poor folks have always struggled with housing in this country," says Desmond, "but this seems like something new, something acute."
On display until May 19, the exhibit makes the pain of eviction clear. In three small rooms, museum staff have constructed houses that are inside-out: Wallpaper lines the outside, doorknobs jut out from odd places, and walls don't extend from floor to ceiling. Inside, museum visitors can view photographs and audio slideshows from people telling their stories of eviction.
The inside-out homes are meant to be "stark, unsettling," curator Sarah A. Leavitt says. "I hope when visitors come in they'll be confronted with this crisis, not just on a macro way but in a personal way." Each one is designed to complement the content inside, so that, for example, the "house" with a video depicting housing court is closed off, with no doors and only a small window so viewers can see the video.
Leavitt says that during the process of putting together the exhibit she spent time sitting in D.C.'s landlord-tenant court — ironically across the street from the museum (and visible from the windows of the exhibit). "It was a sobering experience," she says. The closed-off house "physicalizes" the feeling of being "on the outside, you don't understand what's going on." Even the floors of the show, Leavitt says, are intentionally "gritty."
In addition to the photos and slideshows, the homes depict statistics about eviction graphically: a set of keys shows how eviction disproportionately affects black women. Another chart shows the affordable housing shortage, a third how wages have stagnated even as housing costs have risen. A map near the entrance shows the eviction rate by state—a simple dataset that, until recently, couldn't be found anywhere.
Desmond's Eviction Lab, which recently launched, collected 83 million housing court records going back to 2000 to try to put a number on evictions. The lab found, for example, that 900,000 eviction judgments took place in 2016 alone, meaning landlords were legally allowed to remove one in 50 households. The data, as the New York Times put it, are "probably conservative: They include only households that touched the legal process, not those in which people moved with an informal warning. The data undercount places where eviction records can be sealed or are harder to collect."
Despite the hard work of the Eviction Lab team to bring these records to light, Desmond laments the fact that there is no national government tracking of eviction statistics. "It shouldn't rely on the whims of a researcher," he says. "Like, what if I get bored in a few years? This is too big and too important for us not to have publicly accessible national data on it."
The exhibit is a departure from the Building Museum's more standard fare of shows celebrating architecture and interactive monumental sculptures, but not as much a departure for Leavitt, whose previous shows for the museum included the haunting Architecture of an Asylum exhibition on St. Elizabeth's, and a show about community policing in D.C. (She also curated more standard Building Museum fare such as House & Home, a show about domestic life, and House of Cars, about parking garage innovations.)
But if this is a new direction forward for the Building Museum, it's a promising one. Museum exhibits, even small ones, have the potential to touch people more viscerally than a book.
"I want this to be a problem that [visitors] lose sleep over," Desmond says. "I want this to be a problem that they connect to whatever they care about. Because it is connected. It's connected to educational inequality, homelessness, rising healthcare costs, community destabilization. I'd like people to start having conversations around the dinner table with their kids about this issue."
Posted on April 18, 2018 by Emily Nonko
A community garden in Africatown. (Credit: Susana Raab/Anacostia Community Museum/Smithsonian Institution)
From the surface it appears the community of Africatown, Alabama, fits the profile of a food desert. Many of its commercial buildings sit vacant, the once-bustling downtown has all but disappeared. And so, too, have grocery stores — residents now drive to the nearby cities of Mobile and Prichard for food shopping.
But look deeper, and you'll find a long history of community gardening here. Decades ago, the Alabama Power Company gave residents permission to plant on its vacant plots. They began harvesting acres of crops to eat, sell, or give away to neighbors.
"When we were small, my father grew collards, turnips, mustard greens, peas, butter beans, okra, sweet potatoes, corn," says lifelong Africatown resident Ruth Ballard, now 82. "He also kept animals: hogs, cows, goats, chickens, geese, guineas." Community farming, she says, continues on those same plots today.
A recent $50,000 grant from Alabama Governor Kay Ivey will bolster Africatown's strong ties to community gardening and make it more accessible to the overall community. The money, granted to the Africatown Community Development Corporation, will go toward constructing an open-air market adjacent to the 4.4 acre Jakes Lane Community Garden. According to executive director Donna Mitchell, the market will offer perishables like milk, butter and eggs, plus fresh fruit and vegetables, some of it sourced right from Jakes Lane.
Residents of Africatown can trace their history to July of 1860, when 110 men, women and children were captured in West Africa and brought to Mobile on a slave slip. The international slave trade became illegal in the United States in 1808, but Timothy Meaher, a wealthy Alabama businessman, had made a bet that he could evade authorities. Meaher secretly transferred the slaves to a riverboat and burned his ship. He was later arrested for the act, but never convicted. It marked the last known illegal shipment of slaves to the U.S.
At the end of the Civil War, formerly enslaved West Africans around Mobile, including those brought on the riverboat, founded "African Town" in an isolated area along the Mobile River. It was the earliest known town established and controlled by recent African immigrants in the United States.
The community established a governmental system based on African law and retained much of their West African culture. "They were a tight-knit community known for sharing and helping one another but reportedly had tense relations with both whites and African Americans and so largely kept to themselves," according to a neighborhood history.
Africatown built itself into a self-sustaining community with a school, church and local businesses. That was threatened by incoming industry, which now surrounds Africatown, and development of a primary road system designed for through-traffic and access to industrial areas. The reconstruction of the Cochrane Bridge and Bay Bridge Road in the 1980s created a pronounced physical division between two Africatown neighborhoods. As for the surrounding industrial plants, a group of about 1,200 launched a lawsuit this year against a now-shuttered paper plant they say spewed hazardous chemicals into the air and local environment.
After the encroachment of roads and industry, residents say, Africatown's population dropped, businesses left and the building stock became blighted.
Africatown Community Development Corporation was formed about 20 years ago to help revitalize the area. In 2016 the organization worked with the City of Mobile on an Africatown Community Plan, which addresses everything from affordable housing needs to attracting new business. The plan identified community gardening as an asset, with the goal of "expansion of community gardening in Africatown, a seasonal farmer's market, and truck-based mobile markets [that] all can help increase access to affordable, fresh and healthy food especially for residents with limited transportation means."
With that goal in mind, Mitchell spearheaded the application for this first-time grant program, made possible by the Alabama Healthy Food Financing Act passed in 2015. (Governor Ivey was a staunch supporter of the bipartisan legislation when it was passed, but funding didn't come through until she became governor last year.) In total, the state allocated $300,000 to reduce the number of food deserts in Alabama.
Of 20 total applications, seven organizations were selected, according to Shabbir Olia, chief of Alabama Department of Economic and Community Affairs' Community and Economic Development Division. The application process included a visit to Africatown by state officials. "We were very, very impressed with the community garden, how large it was," Olia says.
The state worked with Africatown Community Development Corporation to secure a 10-year lease with Alabama Power to run the outdoor market adjacent to Jakes Lane. Mitchell aims to open the market four days a week beginning this July. Eventually, she'd like to install arts and crafts as well as a cultural component, modeled after the French Market in New Orleans.
"We want to provide all those things that have been missing from the daily diet," Mitchell says. "And we hope the market, and other revitalization we're doing, will help attract families back to the community." The organization also secured $3.58 million to establish a new welcome center and develop a tourism program. And the organization is looking to blighted lots where they could establish more community gardens, Mitchell says.
Ballard says that Africatown's limited access to fresh food "has made a huge impact on the community… anyone who doesn't have transportation has had to depend on someone else to get to the grocery store." She plans to begin shopping at the open-air market this summer, with memories of her father farming the adjacent land. "It's where our dad taught us how to pick peas and get potatoes after he dug them up," she says. "We did so much there as a family."
Posted on April 18, 2018 by n New News information at DesignCurialn
DesignCurial have teamed up with Grand Designs Live to give you the chance to claim one of 100 free pairs of tickets to the Grand Designs Live show - UK's leading contemporary home show.
Posted on April 18, 2018 by n New News information at DesignCurialn
Rapid Select, from Shaw Contract, has launched. The ideal flooring choice for quick turnaround projects without compromising on quality, performance or design, Rapid Select has been developed specifically by Shaw Contract for the UK and European comm…
Posted on April 18, 2018 by nina azzarello I designboom
napapijri takes ze-knit out of the lab and into the international spotlight through #futurehood, a hub of installations, activations, workshops, performances, talks, and holograms.
The post napapijri activates 'ze-knit' digitally-knitted urban future wear during milan design week appeared first on designboom | architecture & design magazine.
Posted on April 18, 2018 by philip stevens I designboom
the project reflects newson's belief that, 'design is about improving things and about looking to the future, pushing technology forward.'
The post marc newson's aluminum chair for knoll honors the cantilevered chairs of mies van der rohe appeared first on designboom | architecture & design magazine.
Posted on April 18, 2018 by tim spears I designboom
created by cecilie manz, the beoplay P6 speaker delivers bang & olufsen's deep and dynamic signature sound in a small, distinctive scandinavian design.
The post portable beoplay P6 speaker defines strong sound and style in details appeared first on designboom | architecture & design magazine.