Posted on April 19, 2018 by philip stevens I designboom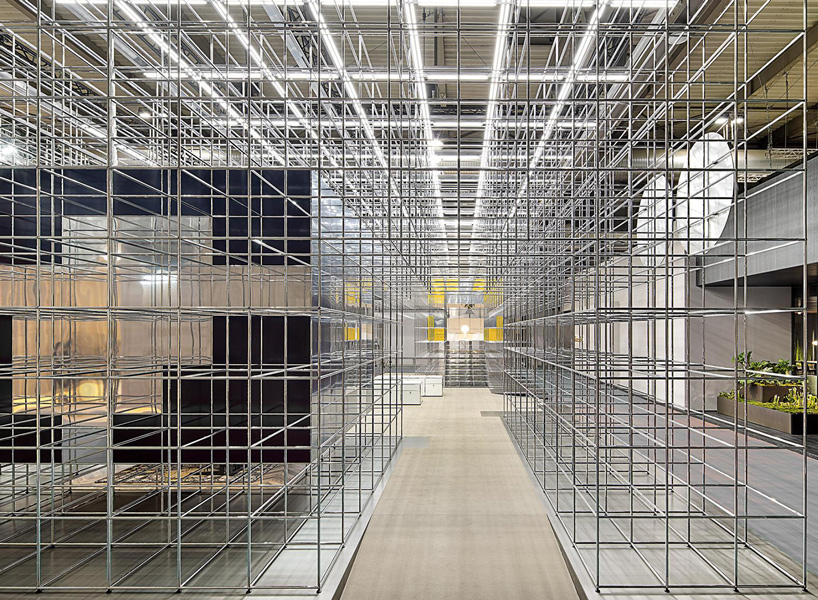 the installation brings furniture design to an architectural scale, creating the biggest piece of USM modular furniture ever built.
The post UNStudio + USM explore the boundaries between work and domesticity at salone del mobile appeared first on designboom | architecture & design magazine.
Posted on April 19, 2018 by n New INTERIORS information at DesignCurialn
We speak to Emma Rayner, co-founder of design studio No12, about furniture, creativity, and being part of the design team behind the first women-only members' club in London.
Posted on April 19, 2018 by Serena Maria Daniels
Olvera Street. (Photo by David Moore via Wikimedia Commons)
Part of El Pueblo de Los Angeles National Historical Monument, in downtown L.A., Olvera Street is a brick-paved corridor that was the birthplace of Los Angeles. Along Olvera, Chicano merchants still sell sarapes, lucha libre masks, Mexican candies and taquitos. A major tourist draw in downtown for nearly a century, the streets around El Pueblo are now home to some of the area's largest homeless encampments.
Pressure is mounting for city leaders to take action on homelessness across L.A. County. The encampments that make up the famous Skid Row in downtown L.A. can now be seen across the city, at local parks, subway platforms and bus stops, parking lots and sidewalks, leaving organizers who work with the unhoused calling for immediate action from City Hall.
Some activists are resorting to extreme tactics. An Activist with Los Angeles Catholic Worker, which operates a free soup kitchen and hospitality house for the homeless, Kaleb Havens spent Ash Wednesday to Easter (the 40-day Catholic season known as Lent) chained to an iron fence, fasting in protest for most of that time, calling on leaders to not simply throw money at homelessness.
"[The solution is] not just creating these social services, but making them humane," he told LA Taco, an independent news site that has been documenting the homelessness crisis over the past few months.
In what Council Member José Huizar calls a "triage-like" response, city council last month voted in favor of establishing a temporary shelter on a city-owned parking lot that sits at the southern edge of El Pueblo. The shelter would be made up of five trailers: three equipped for temporary housing, another one for restrooms, showers and laundry, and one for administrative work and case management.
The L.A. Homeless Services Authority would contract ongoing services to a non-profit service provider. Participants would work with case managers to find permanent housing. According to Huizar's office, the first year costs for the shelter would be about $2.4 million for the design and installation of the trailers, as well as sewer and water costs. Yearly operations are estimated at $1.4 million. The site is expected to launch by summer 2018.
L.A. City Council also voted last month to initiate similar sites on other city-owned property in and around Skid Row, and have directed city staff to find potential funding sources and locations.
According to Huizar, the El Puebla parking lot is an excellent pilot ground because the area has the largest concentration of individuals experiencing homelessness in downtown L.A. outside of Skid Row.
In December, city council voted to turn over ownership of another city-owned property at 1320 Pleasant Avenue in the nearby Boyle Heights neighborhood to Jovenes Inc., which provides shelter, transitional housing, and permanent housing to homeless youth. According to Jovenes, youth homelessness has increased by over 64 percent in L.A.
Officials from the L.A. County Metropolitan Transportation Authority are grappling with a loss of ridership on buses and trains by passengers put off by the growing number of homeless people sleeping at subway platforms or riding the buses in place of sleeping on the street. The transit agency has begun to look for places where they can place supportive services for the homeless on agency-owned property, including allowing people living in their cars to park them in agency-owned parking lots, or installing showers and storage lockers that could be placed on vacant land the department owns around transit stations or bus storage yards. The agency created a $9 million loan program last year to encourage affordable housing near its stations.
Earlier this month, L.A. City Council also approved two new laws, one that would speed up the often lengthy process of implementing homeless housing projects and, another that would make it easier for motels to be converted into temporary housing.
Meanwhile, the Clean Streets Los Angeles program has fielded nearly 6,000 requests by residents asking for help to clean encampments throughout the city.
These are just a few short-term measures city leaders are taking to help stem the homelessness epidemic in Los Angeles County.
Rising rents, coupled with a shortage in affordable housing units throughout the region, has resulted in a homeless population that an L.A. Times editorial estimates at more than 57,000 in L.A. County. The situation has forced some to relocate to far-flung parts of the region, share living quarters with multiple families, and or resort to renting out box trucks or RVs.
In the long-term, Measure HHH, a ballot initiative that voters approved in late 2016, authorizes a $1.2 billion bond to help pay for 10,000 units of affordable housing over the next decade.
Tod Lipka, CEO of Step Up on Second, a social service organization that works with the chronically homeless experiencing mental health issues, applauds the city's efforts to provide short-term gap services while waiting for longer term permanent housing solutions to come online.
"The city has done amazing things over the past couple of years to address this problem, that for many, many years have not been addressed," Lipka says.
While all efforts should be place to address permanent housing solutions, the city's use of sites like at El Pueblo will help to manage the problem in the immediate term, Lipka adds.
Huizar, whose district covers downtown, Boyle Heights, El Sereno and northeast Los Angeles, says in the meantime, his district needs temporary, emergency housing.
"This is the model I want to see used next to create a triage-like response in Skid Row," he says of the parking lot shelter approach. "Unfortunately, as the single largest homeless encampment in the nation, Skid Row is ground zero of our homeless challenge and we must step up our efforts to address it."
Posted on April 19, 2018 by n New News information at DesignCurialn
Armourcoat surface finishes have played a central role in the comprehensive refurbishment of the iconic Minster Building in the heart of London's business district.
Posted on April 19, 2018 by Jared Brey
Dallas City Hall. (Photo by dcaloren via flickr)
Early next month, the Dallas city council is expected to vote on a new housing plan that aims to produce 20,000 homes for low- and moderate-income families over the next three years. The plan is intended not only to overcome a shortage of affordable housing in the city, but to chip away at patterns of racial and economic segregation that have developed in the city over the course of decades.
For Dallas, a new approach to housing has been a long time coming, officials say. In 2014, the city entered into a settlement agreement with the Department of Housing and Urban Development related to complaints that it had distributed federal housing money in ways that reinforced segregation, rather than working against it, as required by the Fair Housing Act. The following year, the U.S. Supreme Court ruled, in a case brought against the Texas Department of Housing and Community Affairs by a Dallas nonprofit group, that policies which create disparate outcomes in housing violate the Fair Housing Act, even if they aren't driven by intentional discrimination.
"The idea of the Fair Housing Act is to give people access to more upwardly mobile communities," says Raquel Favela, chief of economic development and neighborhood services for the city. "And that's exactly what this plan seeks to do."
The city's new plan, which was unveiled in March, is the work of a new cohort of housing officials brought on by city manager T.C. Broadnax last year, including Favela. It's based on a deep dive into the city's housing data called a Market Value Analysis, as Next City previously reported.
The proposal recommends different types of investments in three target areas identified using the Market Value Analysis: Stabilization Areas, where the housing market is gaining strength and there's a risk of displacement; Redevelopment Areas, where projects with potential to transform a market are already underway; and Emerging Market Areas, where there is a very weak housing market and problems with public safety and code enforcement. It calls for a mix of public and private investment to help fund 20,000 new homes over the next three years, with slightly more than half of the homes reserved for homeownership and the rest for rental. New affordable housing production would be focused in areas with stronger markets, through zoning for increased density and loans to fill financing gaps.
Map showing the Dallas housing plan target areas layered with the Market Value Analysis areas. (Credit: City of Dallas Department of Housing and Neighborhood Revitalization)
The plan seeks to build on market strengths by helping residents access homes built for market-rate tenancy, rather than subsidizing developers to build low-income housing in low-income areas. In the "emerging market" areas, the city would focus on strengthening neighborhood groups and investing in infrastructure and code enforcement. The idea is to make stronger markets more accessible for low-income residents, rather than providing low-income housing only in the most distressed areas.
"It doesn't make sense for us to build housing in areas where those things are a big concern," Favela says of the emerging market areas. "It really isn't a housing choice if people feel like that's the only option they have."
But that aspect of the plan doesn't sit right with some groups that have been involved in providing affordable housing in Dallas for decades. After the plan was released, representatives of the city's Community Housing Development Organizations (CHDOs, pronounced "chodos") complained that they were being left behind by the plan—and so were the parts of the city that were struggling the most.
Annie Evans, executive director of SouthFair Community Development Corporation, a CHDO that works in South Dallas, says groups like hers have been working to provide housing in areas where private developers won't build for years. The CHDOs are committed to improving the city's most-distressed areas, Evans says. And she questions the housing plan's emphasis on areas of market strength.
"Why would you wait 3-5 years to address these type of areas when the need is now?" Evans says. "The CHDOs, we're working in these areas now."
Together, the CHDOs were seeking an investment of $50 million to support their low-income housing development work, according to a report in The Dallas Morning News. (Representatives of other CHDOs did not respond to requests for an interview.)
But the CHDOs have been too slow to produce housing, and haven't shown the financial or organizational capacity to complete projects on a reliable timeline, Favela says. Their opposition to the plan wasn't a surprise to her.
"The practices that have been in place in Dallas have been in place a long time," says Favela. "And the only change that's welcomed is the change that we create, so by virtue of this not being a change that they were initiating, I expected that they would not embrace it."
Besides, the whole point of the housing plan is to produce affordable housing in a more integrated way than the city has in the past. It's more effective for the city to do that by serving low-income residents in neighborhoods with stronger markets than it is to try to build mixed-income housing in areas with weak markets, Favela says. Nothing in the plan prevents the city's CHDOs from continuing to work in their selected areas, but providing incentives to target low-income housing in low-income neighborhoods is the very practice that runs afoul of federal policy, she says.
"The plan is about providing housing choice and mobility, which is at the crux of the Fair Housing Act," Favela says. "This is about providing mobility for low-to-moderate income families."
Favela says she plans to present the plan to a city council committee again on May 2, incorporating public comments that her office has gathered over the last few weeks. The council is expected to vote on the plan on May 9. So far, Favela says she's met one-on-one with all but two city councilmembers to discuss the housing plan. She expects the majority will support it.
Some councilmembers, like Tennell Atkins, who represents the 8th District in South Dallas, have been expressed doubt about approving the plan, at least in its current form, according to news reports. (Atkins' office did not respond to requests for an interview.) But other councilmembers are openly supportive of the new approach.
"Our housing department and our housing policy has just been such a disaster," says Lee Kleinman, the 11th District councilman who describes himself as a "fiscal conservative" on Twitter. "I just don't think that anybody wants to keep doing what we've been doing."
Posted on April 19, 2018 by kieron marchese I designboom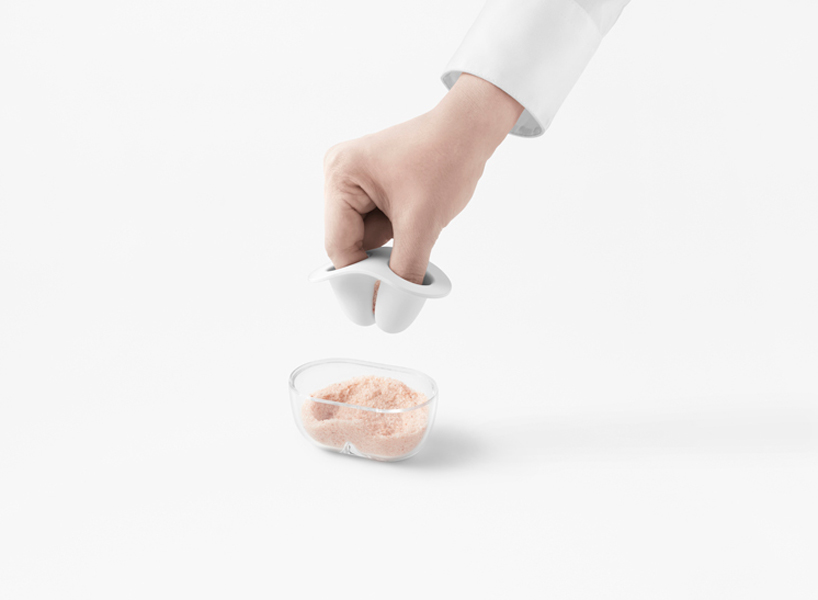 designboom interviews nendo founder oki sato on his showcasing of 10 different collaborations with japanese manufacturers using unique materials and advanced techniques.
The post nendo's solo exhibition 'forms of movement' showcases tactile designs of time, air and motion appeared first on designboom | architecture & design magazine.
Posted on April 19, 2018 by WowHauser
WowHaus
Elizabethan Burton Hall in Burton, Cheshire up for raffle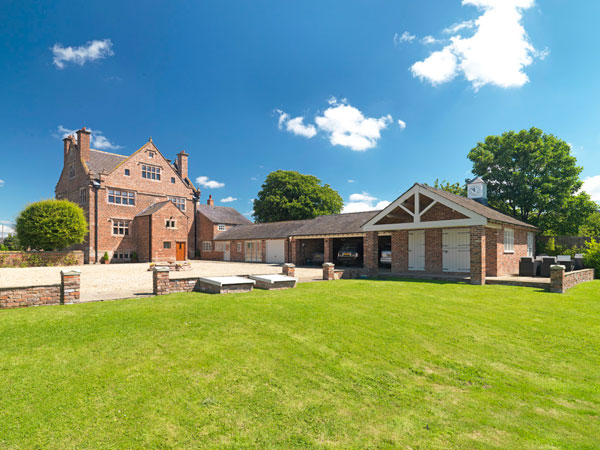 Not the kind of house we tend to feature, but after the popularity of the Huf Haus raffle I thought I would flag up Burton Hall in Burton, Cheshire, which is also being sold via a raffle, with tickets at just £5.
This is very much a period property, but perhaps not as 'period' as you might think at first glance. However, the basis of the place does go back some centuries.
It is said to have been built in 1568 as a private resident for the wealthy landowner John Werden. It stayed in that family until the late 18th century before falling into local farming ownership and eventually decline in the 20th century.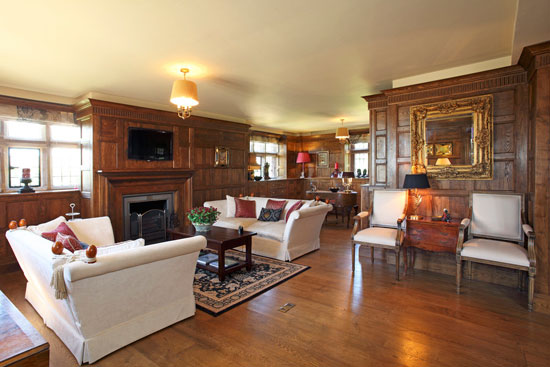 The property returned to private ownership in 2006 and underwent a considerable restoration, transforming into 'an Elizabethan structure to survive future centuries' according to the publicity.
if you like a period property, this should appeal. While much of the inside is a modern take on a country house, the structure itself remains rather grand and the internal finish is obviously as premium one. Plenty of land and outbuildings too. In fact, let's look at what you do win.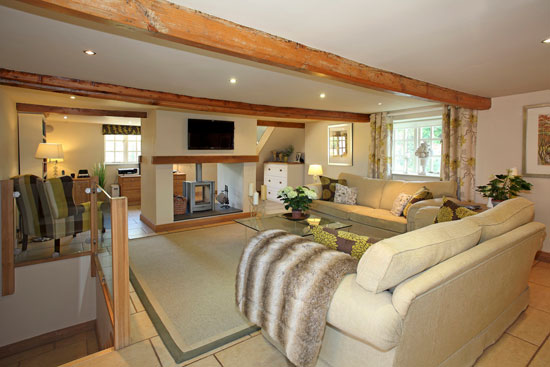 Well, the house obviously, along with 50,000 cash, which might help with the running costs of the place. Standard stamp duty is also included.
That house is described as an Elizabethan hall with Victorian cottage, complete with bespoke furniture and fittings, five large bedrooms, two fireplaces for open fires, an oak library and study area, three living rooms, walk in pantry, laundry and utility room, two formal dining rooms, service from the kitchen by a pulley system Dumb Waiter, a music room with full size Schiedmayer grand piano and a downstairs cloakroom. So a lot of space.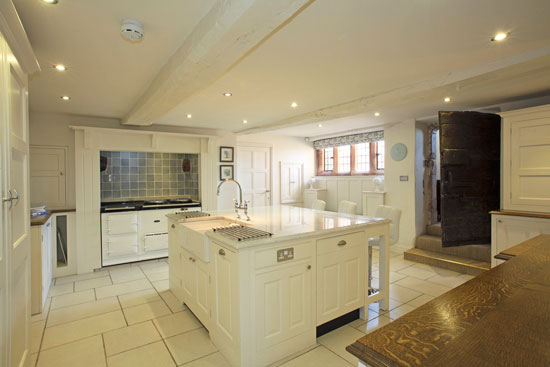 There's also a private walled garden to the Victorian cottage, Elizabethan gardens with formal parterre, a rose garden with bespoke gazebo and obelisks, stables with space for two stalls and tack room, tractor-mower and log store, outdoor kennels, a large pond teeming with wildlife and a small boat for fishing.
The images perhaps give the best impression of just what you get, not least when it comes to the amazing outside space of this one.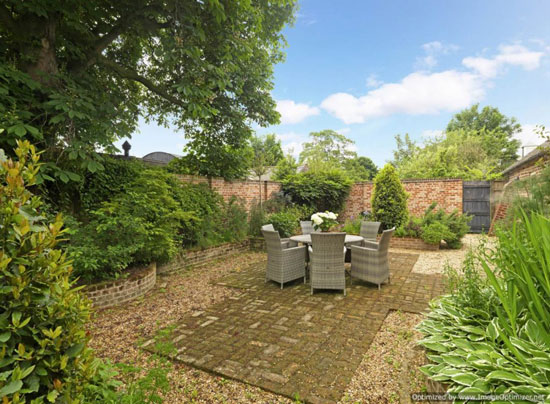 Note that if the target is not met, the prize will be substituted with a cash prize equal to the total of the fees received less transaction fees and the 'promoter's reasonable administrative costs'. Check the terms and conditions for more on that.
Hopefully it doesn't come to that and someone actually wins this as their next home. Already the server has crashed due to demand, so there's obviously no shortage if interest in a move to Cheshire.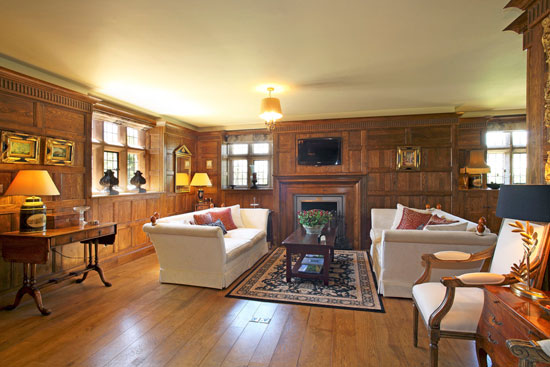 Due to issues entering, you can register your name at the site for the house raffle to be informed if when the competition will be back online, which sounds like it will be very soon. Tickets are £5 each when it does go back live.
More background in this article in the Chester Chronicle or if you want to access the Burton Hall website and competition page, you will find that here.
Thanks to John for the tip off!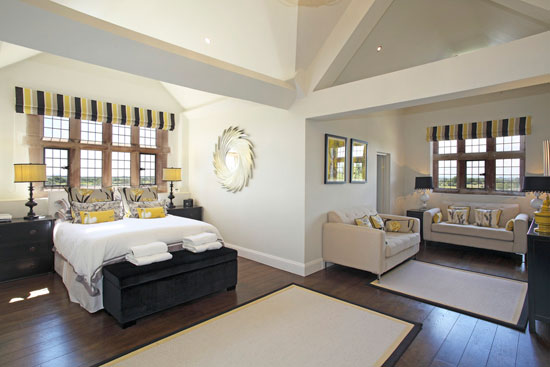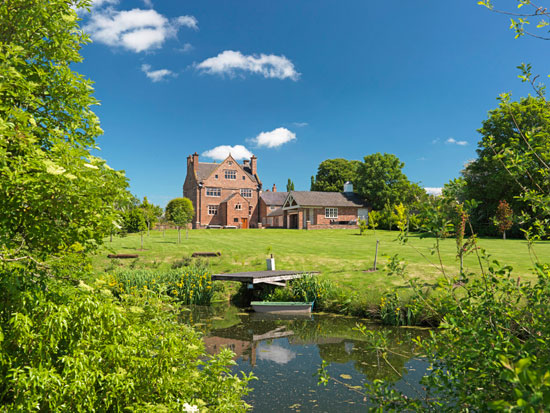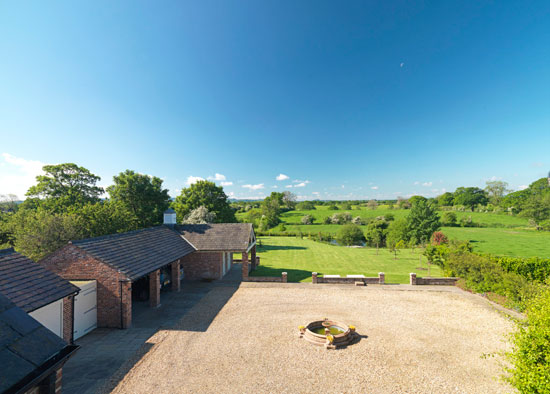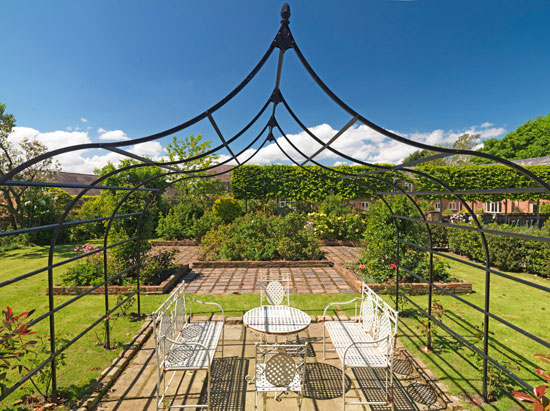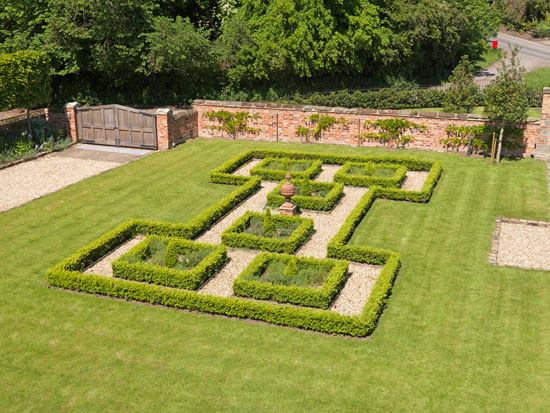 The post Elizabethan Burton Hall in Burton, Cheshire up for raffle appeared first on WowHaus.
Posted on April 19, 2018 by philip stevens I designboom
composed as a network of barrel and parabolic vaults that open towards the river, the volumes stretch and intersect to accommodate the school's varied program.
The post zaha hadid architects plans school in rural china using robotic construction techniques appeared first on designboom | architecture & design magazine.
Posted on April 19, 2018 by WowHauser
WowHaus
1970s Antoni Bonet Castellana modernist property in Calella, Spain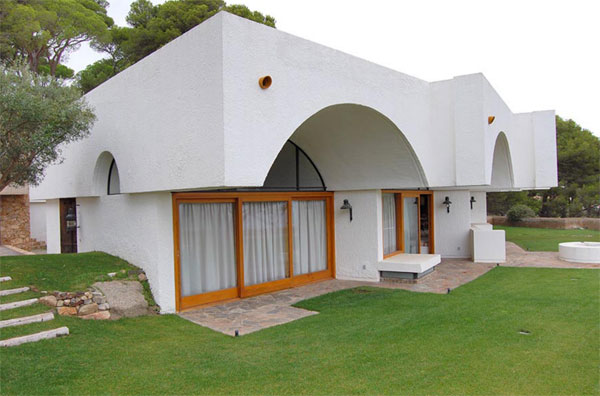 He is perhaps best known for the BKF Butterfly Armchair, but his architecture if worth shouting about too. This 1970s Antoni Bonet Castellana modernist property in Calella, Spain is a joy.
Thanks to both Birmingham 81 on Twitter and Vejes for pointing me in the direction pf this seemingly unspoilt house on the Spanish Costa Brava and not too far from Barcelona. It was and presumably still is a hot tourist location too.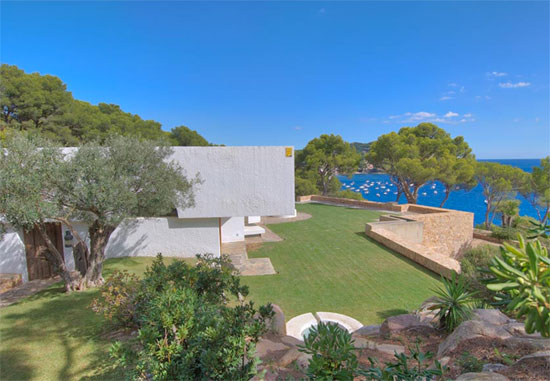 So the location is a winner, what about the house? Well, that's an impressive piece of design too. The agent listing is incredibly factual and with little detail, so I will pick out what I can from the images.
First up, what a bold piece of domestic architecture. The concrete and curves greet you, but there is more to the design than that. More living space is found below, blending effortlessly into the rocks and stone that eventually lead to the sea. Yes, this is on the coast. Another plus point there, with stunning views through the full height glazing or from the expansive terraces outside the property.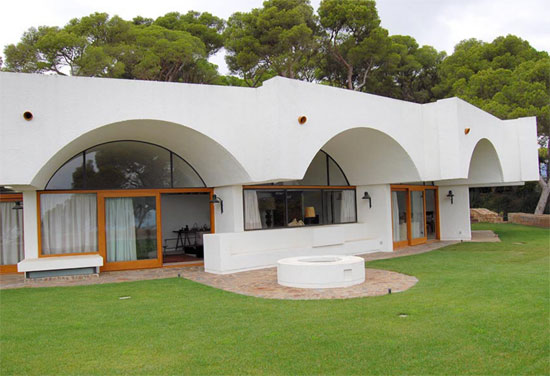 Those curves continue once inside the house, creating a rather interesting ceiling space. In fact, once inside, you get a feel for this one, which is very much a Spanish villa, but mixed in with 1970s modernism.
So open spaces, tiled floors and a general white finish throughout, but with details such as the ceilings and windows, as well as untouched 1970s details. The kitchen is a survivor from the original era, along with the bathrooms plus a number of the internal fixtures and fittings. Not quite a time capsule, but very faithful to the design of the architect back in there day.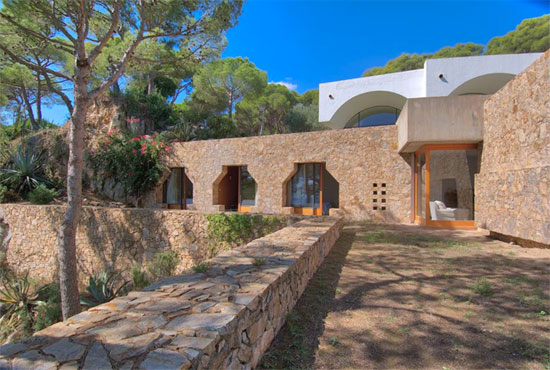 Quite a substantial living space too. A plot of 3,100 sq. metres and living space covering around 767 sq. metres. That space breaks down as a porch, dining room, lounge, 'studio', a kitchen with eating area, seven bedrooms (so ideal for family and friends calling round), five shower rooms, one washroom, a dressing room, two store rooms and a garage with an additional store room.
This one sells itself as much for the outside as the inside, with the garden containing a swimming pool and those lovely terraces to the front too. Imagine waking up to that each morning. The overhead shot hints at this place being fairly hidden away too, but with a road easily accessible from the house.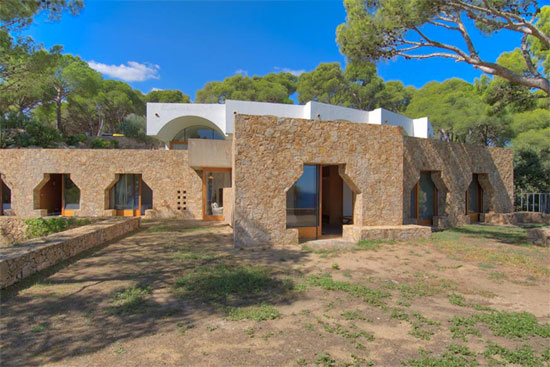 It's a huge house in a wonderful location and as such, this doesn't come cheap. Especially when you slip in the architect's pedigree too. €5,800,000 if you want to move into this one.
Images and details courtesy of Finques Frigola. For more details and to make an enquiry, please visit the website.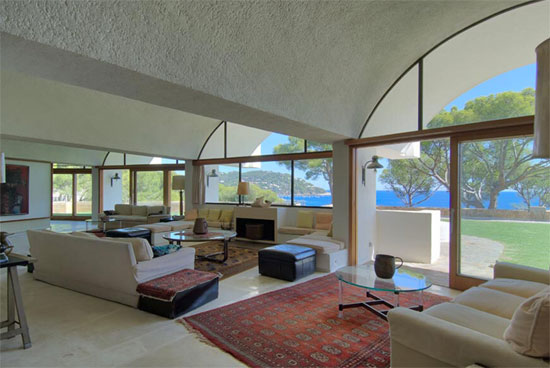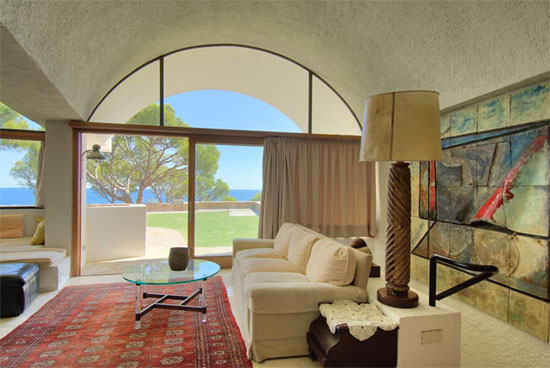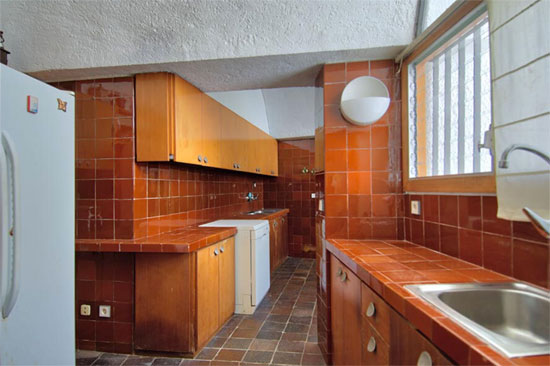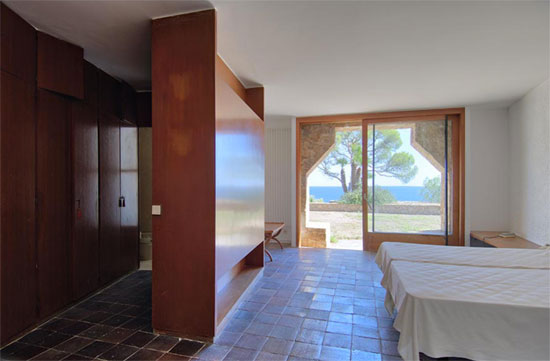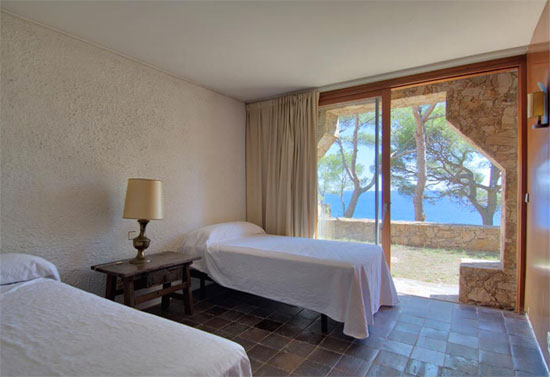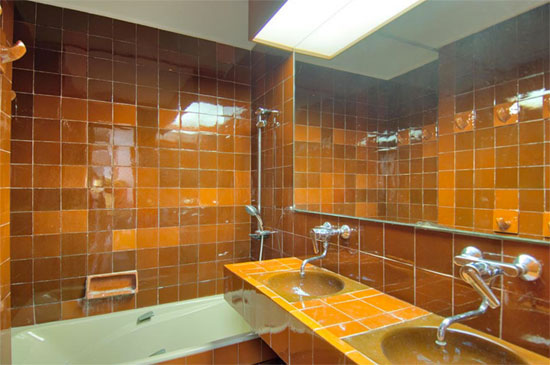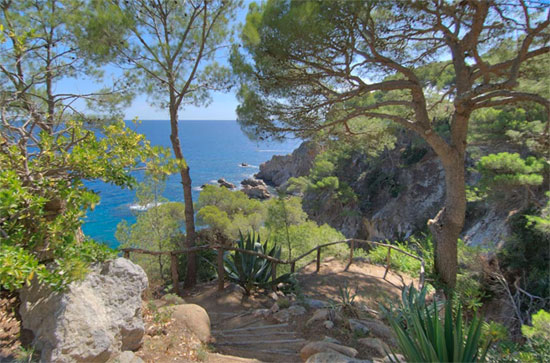 The post 1970s Antoni Bonet Castellana modernist property in Calella, Spain appeared first on WowHaus.