Posted on March 10, 2015 by Elizabeth Dougherty
Forgotten what your fridge looks like under dusty layers of your child's paintings and drawings? One way to cut through the clutter is to rotate art — in with the new, out with the old. In theory nothing could be easier using good old-fashioned fridge magnets. But in real life (or at least
...
Posted on March 10, 2015 by Amy Frearson
Designer Thomas Heatherwick has completed a university building in Singapore made up of 12 towers that resemble giant parsnips (+ slideshow). (more…)
Posted on March 10, 2015 by Dan Howarth
Japanese studio Nendo has turned woven bamboo baskets into backrests for chairs and storage compartments for tables in this furniture range (+ slideshow). (more…)
Posted on March 10, 2015 by nick brink I designboom
l'eau design's multi-function neighborhood facility is an organic, various-skinned chameleon, built to survive the unceasing demands of its urban eco-system.
The post l'eau design's chameleon form adapts amidst seoul's urban landscape appeared first on designboom | architecture & design magazine.
Posted on March 10, 2015 by Sandy Smith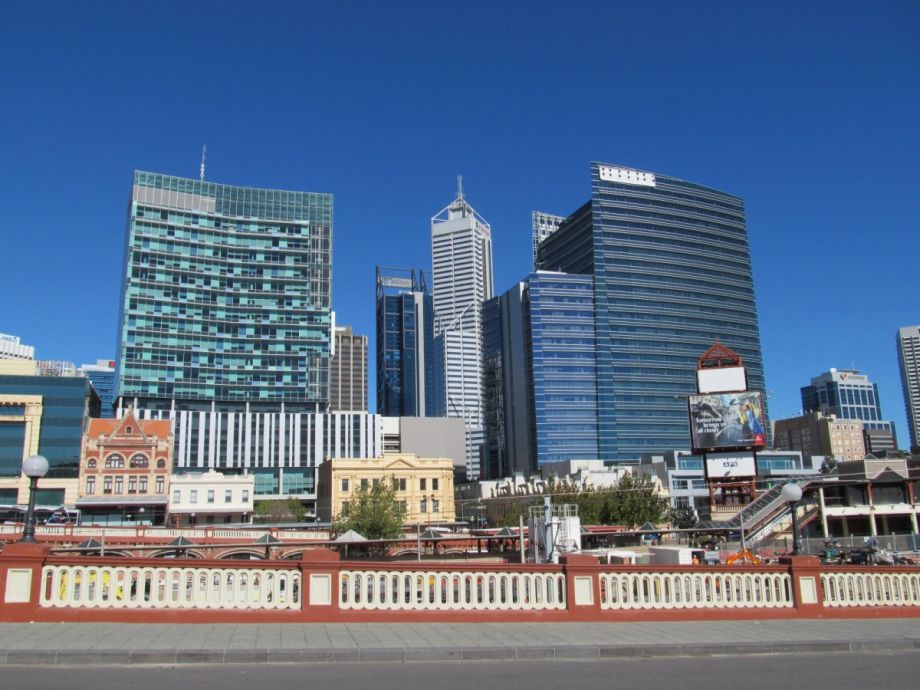 At least one mayor isn't pleased with a proposal to replace light rail with BRT in Perth, Western Australia, above. (Photo by Orderinchaos)
Our weekly "New Starts" roundup of new and newsworthy transportation projects worldwide.
Proposal to Replace LRT With BRT Draws Fire
The state government in Western Australia sought re-election on a platform that included a promise to build a 22-km, A$2.5 billion ($1.92 billion U.S.) light-rail line that would run from Balga, a northern suburb of the state capital of Perth, into the city center before splitting into branches serving Queen Elizabeth II Medical Centre and the Causeway.
Now that government, headed by State Premier Colin Barnett, is proposing replacing that project with a bus rapid transit line instead, and that has at least one local official upset.
The Perth Sunday Times' Perth Now site reports that John Carey, mayor of the near northern suburb of Vincent, blasted Barnett's announcement that the Western Australia Ministry of Transport will instead study the relative merits of both the original light-rail proposal and a BRT line. The cost of the latter would be roughly half that of the light-rail line: A$1.2 billion ($962.3 million U.S.)
Barnett defended the move, saying that a BRT system could be upgraded to light rail in the future, but Carey criticized it, calling the move "a lost opportunity for a transitional project. To now turn around, after years of promises, to say, 'we'll give you some buses instead,' just doesn't cut it.
"You get a major transformation of centers around rail nodes. You won't get that kind of renewal around a rapid bus transit system."
Transport Minister Dean Nalder, however, said that in light of both the state government's worsening finances and the fact that work on the light-rail line, called MAX, had already been deferred until 2017, it would be "irresponsible" not to examine a cheaper alternative. "If we can use buses and deliver the same outcomes [as rail] and do it at half the cost, why wouldn't we explore it?" Nalder said.
Nalder plans to present a business model to the state cabinet next year.
Chicagoans Mull Return of Streetcars
The last of Chicago's "Green Hornet" PCC streetcars pulled into the carbarn for the last time in 1958. Now, the Chicago Gazette reports, a local advocacy group has launched a study to make a case for bringing streetcars back to the Windy City.
The group, Chicago Streetcar Renaissance, is proposing a six-mile streetcar route it has dubbed the "Superloop." The line would begin at Ogilvie Transportation Center in the Loop, then proceed south to Navy Pier, the museum campus near Soldier Field, and McCormick Place. (The group also proposes a starter line that would revive the city's last streetcar line, which ran along Clark Street; the starter line would operate along Clark from Wrigley Field to the Loop.)
The proposed Superloop would connect a number of popular local attractions not directly served by public transit now, including the Shedd Aquarium, Adler Planetarium, Field Museum, Northerly Island, and the planned Lucas Museum.
Grant Park Conservancy President Bob O'Neill, whose group is working with CSR on the proposal, said, "Moving all these people, local residents and tourists, around the downtown area with light rail is a really clean way of doing it. It's also pretty unobtrusive. It's quiet and less polluting, and it prevents the bunching of buses."
But it would also be pretty expensive: CSR estimates that the Superloop would cost $350 million to build. That works out to about $57 million per mile; by comparison, a BRT line the city plans to build along Ashland Avenue will cost about $9.9 million per mile. CSR argues that greater passenger capacity and lower operating and maintenance costs make the streetcar a superior choice nonetheless. The group's study aims to assess all of the economic impacts of the proposed line.
Second Metro Line Opens in Warsaw
Sunday, March 8th saw the inauguration of service on the initial 6.5-km section of Line M2, Warsaw's second metro line, with a day of free rides on the route, according to an item in the International Railway Journal.
The east-west line runs under the Vistula River and connects Dworzek Wileński, east of the city center, with Rondo Daszyńskiego on the city's west side. The line connects with the existing Line M1 at Świętokrzyska; the new M2 station there is the deepest on the Warsaw Metro, 23 meters below the street.
The opening of Line M2 took place a year later than had been planned. An Associated Press story noted that construction was delayed because of the discovery of unexploded World War II munitions and a water leak that flooded a nearly completed station. The project was completed in five years at a cost of 4.2 billion zlotys ($1.1 billion U.S.)
The city of Warsaw sought bids last fall for the next phase, which will extend the line to the east and the west in segments totaling 6.5 km in length. The 4-billion-zloty ($1.05 billion U.S.) extensions are scheduled to go into service in 2019.
Know of a project that should be featured in this column? Tweet @MarketStEl using the hashtag #newstarts.
Posted on March 10, 2015 by Dan Howarth
Design Indaba 2015: designer Kathryn Fleming has presented prototypes for new organisms that could be created using synthetic biology, including a cat-dog hybrid with reflective fur and a tightrope-walking herbivore. (more…)
Posted on March 10, 2015 by philip stevens I designboom
standing as a new educational landmark, the building at nanyang technological university has opened its doors two and a half years after construction began.
The post thomas heatherwick's learning hub in singapore comprises 12 tapered towers appeared first on designboom | architecture & design magazine.
Posted on March 10, 2015 by andrea chin I designboom
the family of objects blend small homeware goods with furniture, contrasting conventional concepts of interior design.
The post nendo crafts tokyo tribal collection for industry+ from bamboo rattan appeared first on designboom | architecture & design magazine.
Posted on March 10, 2015 by Amy Frearson
A grid of 12 regimented blocks forms this Seoul memorial centre designed by D Lim Architects to pay tribute to the life of Korean independence activist Ahn Jung-geun (+ slideshow). (more…)